Download Clash Royale APK Info :
Download Clash Royale APK For Android, APK File Named com.supercell.clashroyale And APP Developer Company Is Supercell . Latest Android APK Vesion Clash Royale Is Clash Royale 2.4.4 Can Free Download APK Then Install On Android Phone.
Clash Royale APK Description
There is no avoiding war it can only be postponed to the advantage of others. Clash Royale is a freemium mobile strategy game developed and published by Supercell. The game combines elements from collectible card games, tower defense, and multiplayer online battle arena. Clash Royale uses the MOBA gameplay by deploying various units down two lanes. The two lanes then lead to two mini castles that protects the main castle in the middle. Whoever destroys the main castle wins the round. The tactical aspect of the game is simple: you have forms of units to deploy using a recharging elixir meter. From melee and ranged ground troops to flying troops, and even buildings that spawn units, different units costs different amounts of elixir to deploy. You're allowed 8 different units, so each unit is carefully selected and deployed at the right time with a strategy in mind. Each round lasts for 2/3minutes. It's time to duel players from around the world and take their earnings. Earn chests to unlock rewards. Collect powerful new cards and upgrades the one you already have. Destroy opponent's towers. Win Crowns. Form a Clan to share cards and build your own battle community. Challenge your Clanmates and friends to a private duel. Clash Royale will put you to the test in terms of problem-solving and strategy. Are you up for it?
From version Clash Royale 2.4.4
:
Added: 2017-11-26 10:09:13
Modified: 2018-10-01 20:08:33
Updated: 2018-10-21 00:26:02
• Unlock a new card today! Goblin Giant stomps into the Arena...
• Find Trade Tokens and swap Legendary Cards!
• Earn a new reward after every Clan War!
• Tap on News Royale in-game for the full update details.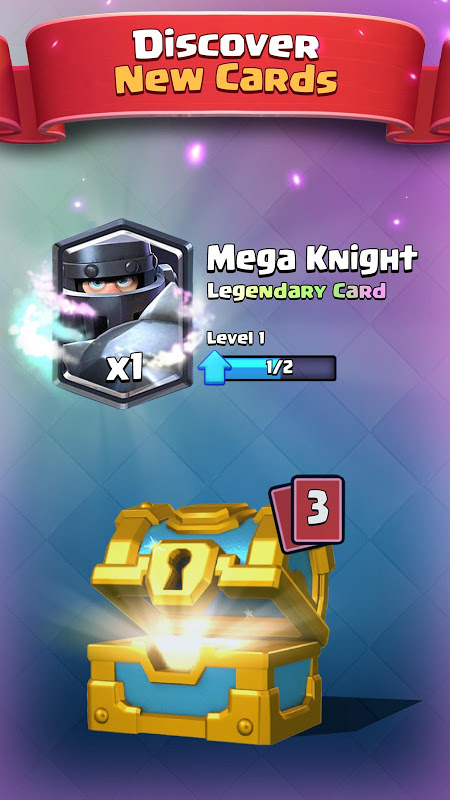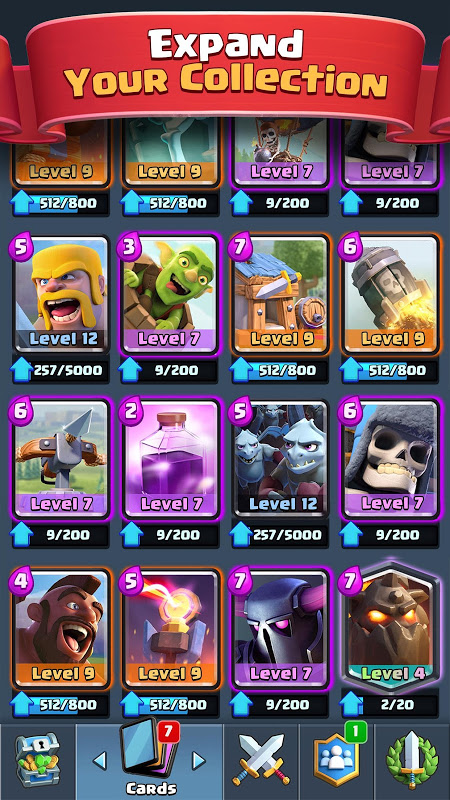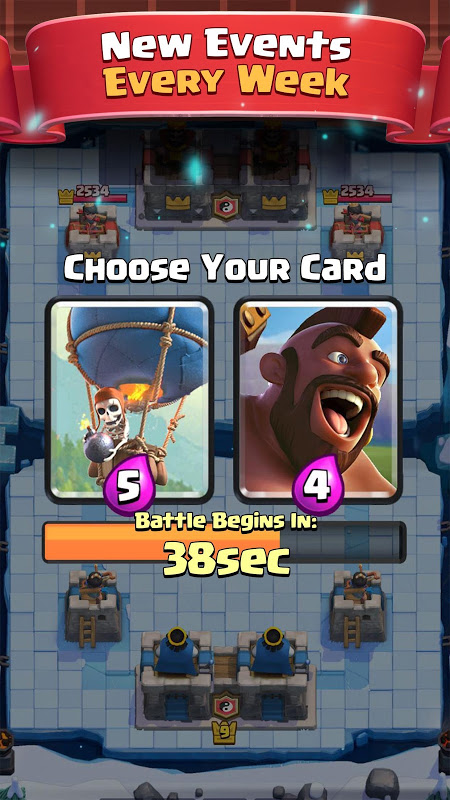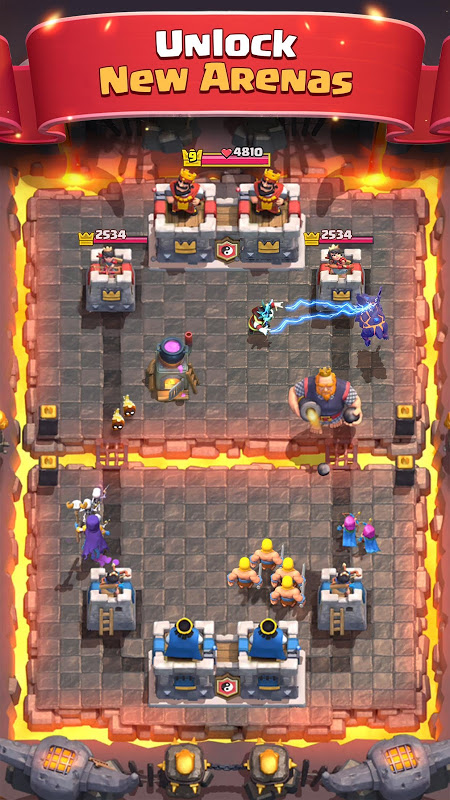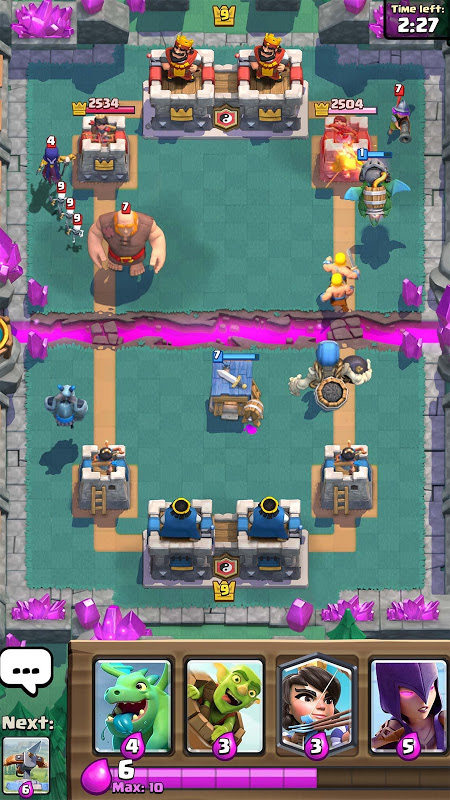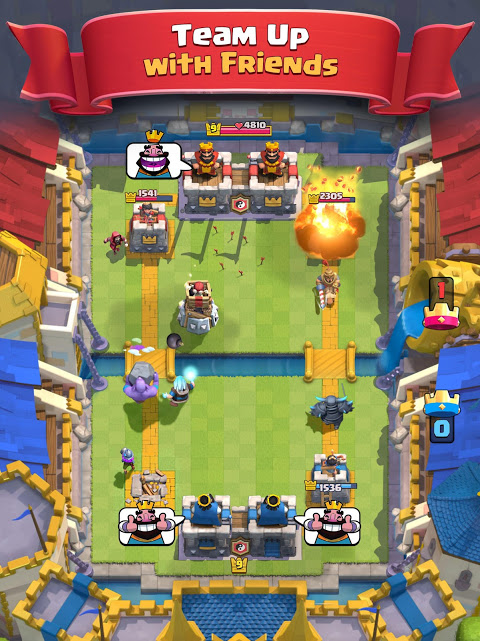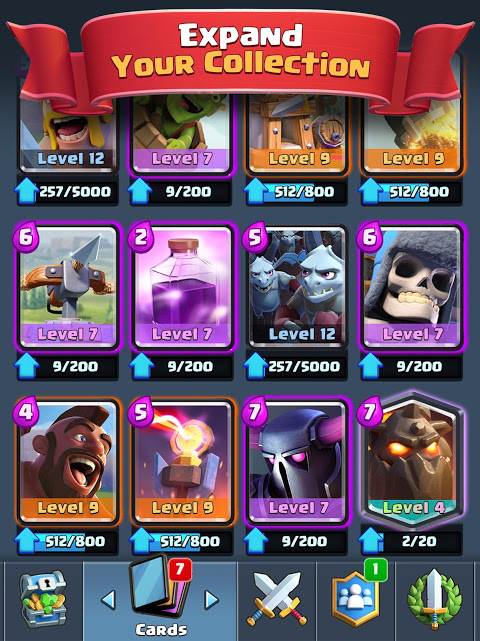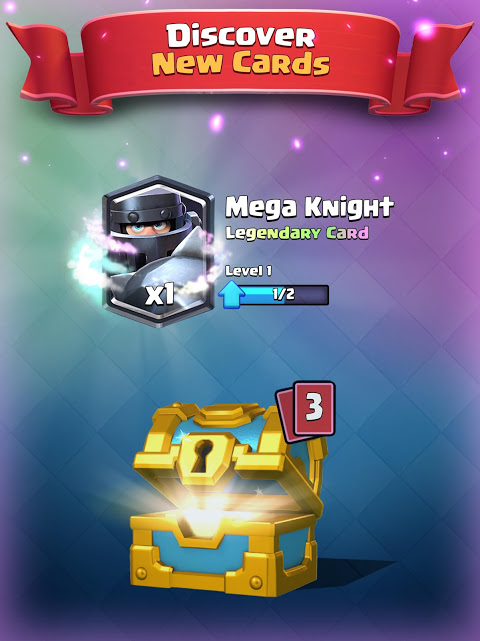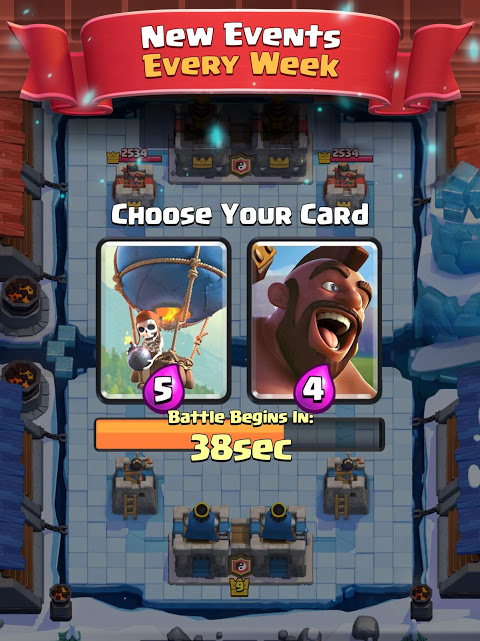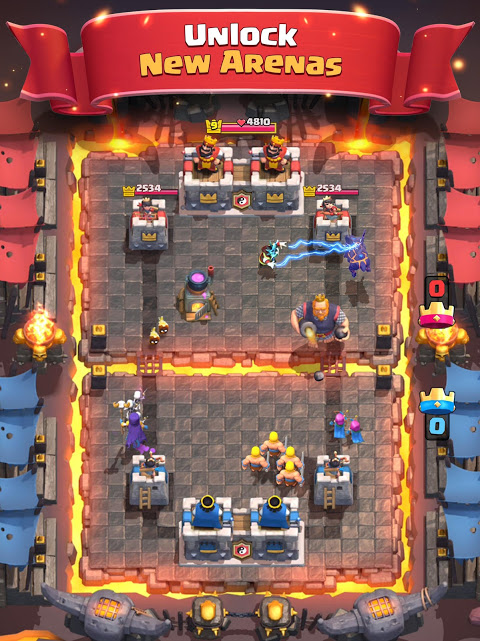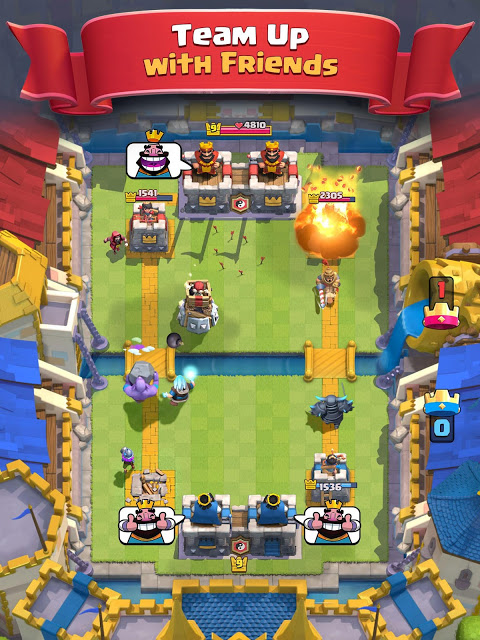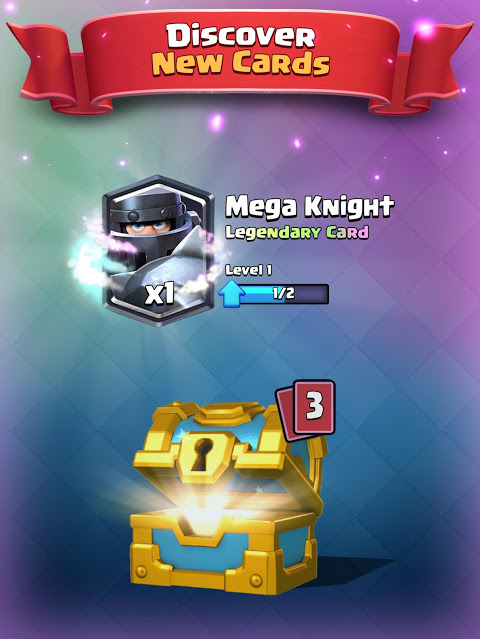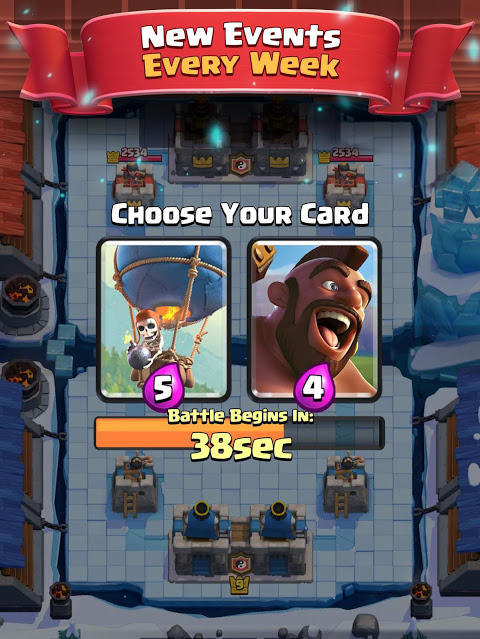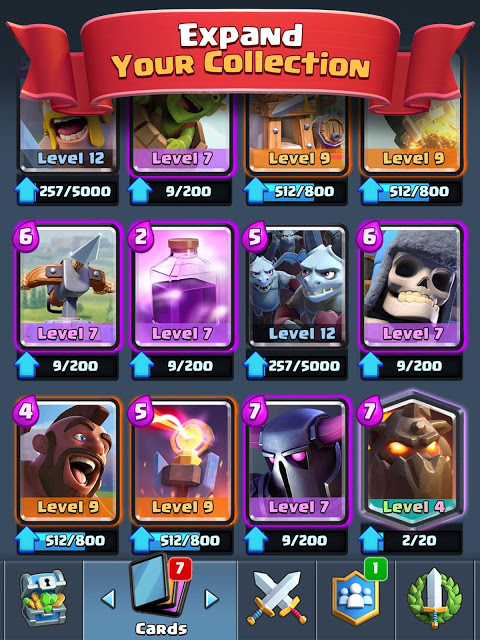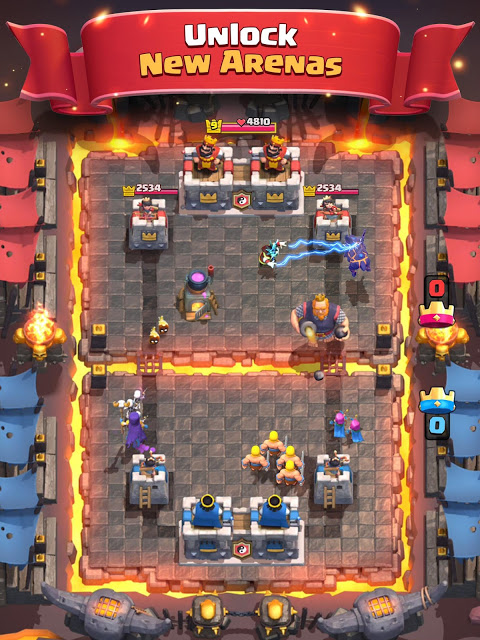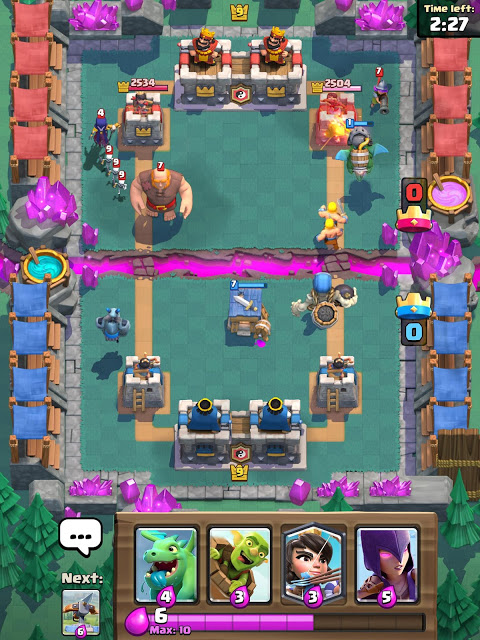 meu celualar pede encher de virus e nao pegar mais eu compro outro celular e abaixo de navo pra jogar so que e me divertir
recomendo abaixar nao via ser arrepender
العبه حلوه ولاكن مايطون افلوس كثيره عندما نفوز
cok kolay dikkatli bak ya da supercele ugra anlarsin
tío todos los juegos tienen bugs
Mezzi madness go suck your mom's vegina motherfucker die in a fucking torture chamber also I'll fucking piss on you until you fucking die!
ç est toi la merde espèce de TB
vai toma no cu disgraça criança duente mental foda se
ruim e seu celular fio meu tá de boenas na lagoas
العبه حلوه كلش كلش والله تخبل #حمودي
really nice game as you said
e muito bom até a pessoa pode namora
não abre porque seu dispositivo é um lixo tão fedorento quanto você
que burro,sabe nem escrever
ninguem te perguntou se vc não gosta de clash royale
é mesmo,o celular da pessoa que não abre deve nem saber cuidar dos telefones deles
vc e burro cara vc e otario
es el mejor juego que e jugado no solo es un juego también hay que pensar como jugar la batalla
Gustavo VC tenhe um irmão pequeno?
como se llama tu clan y cuantos trofeos tiene para unirme pero empezaré una cuenta nueva desde arena 1 no te molesta yo soy activo si me gusta el clan uno mi otra cuenta de arena 10 a tu clan manda nombre y cuantos trofeos tiene
vá se ferraaarrr sabe nada o jogo é muito bom
seu celular que nao da porque e muito bom
e porque o seu celular nao da porque ele e otimo
o meu cavalo morreu e agora?
por que seu celular e um lixo igual você
Fortinite e melhor que essa bosta
o melhor jogo do mundo e Free Fire
idiota simpre lo actualisan 😈 aweoná
puto el que no escribió porque tuvo que leerlo antes para ver si estaba bien
você é muito idiota que não sabe o que é bom
ادخل على اعدادات العبه و امسح بيانات العبه والتخزين وشوف تفتخ لو لا اذا ما تفتح يعني جاهزك ما تفتح بي العبه😘😘😘
se não sabe jogar não crítica
mentiroso fala no canal entao
mentiroso fala no canal entao
O JOGO NÃO É RUIM, SEU CELULAR QUE É UMA BOSTA E NÃO RODA O JOGO
عزيزي F نريد رآيك في العبه ما رآيك
man este fre fire esta me irritando jogo chato
then you dint have all the cards
Só é ruim porque tu não sabe fazer bosta nem nhuma
seu aparelho deve ser uma "bosta", para não rodar um jogo leve desses.
seu viado filho de uma puta otário seu troxa babaca
e falso prosidu falsooooolo
vc só fala que o clash royale é ruim porque vc não sabe jogar
ruim nada esse é o melhor jogo do mundo
Everyone that exaggerates gets me a free kiss in the ass
Work on grammer profile picture life
Y E E E E E E E E E E A A A A A S
poop is not mean that means you like eating poop
stop begging for people to download something you don't own